Wyoming Fly Fishing
World Class Blue Ribbon Wyoming Fly Fishing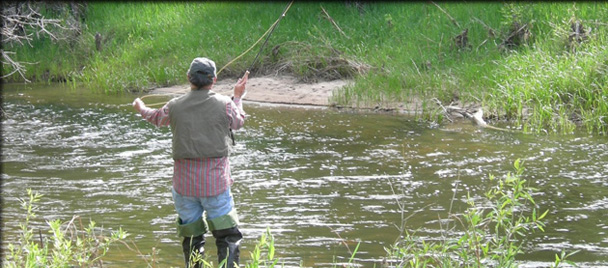 Wyoming Fly Fishing for Rainbows, Browns & Brook Trout on our private mountain streams!
No strangers standing next to you, you get miles of streams and hundreds of acres all to yourself, your friends, and your family! We offer 2 to 4 day Fly Fishing adventure packages. See Pricing and Itineraries Page. Take home great memories, stories, and pictures of a lifetime.
All Fly Fishing Packages include use of the camp area, including bunkhouses, washhouse, and chowhouse (see Stay With Us Page) and (see pricing and itineraries page)
No Planted or Hatchery Fish
Deep Water Pools
Beaver Ponds
Riffles
Springs
Significant Hatch
Ongoing in-stream fish habitat projects, so the fishing keeps getting better and better...
PROPERTIES ARE WELL MANAGED, PATROLLED, AND SECLUDED.
All fishing at lower LaPrele Preserve property is catch-and-release fly fishing with barbless hooks only.
Ask about high mountain Brook Trout fishing!
2 to 4 day packages for first time beginners who want to learn to fly fish, and 2 to 4 day packages for experienced fly fishers who want access to great Wyoming mountain stream fly fishing.
All Private Land!
See WY Game & Fishing Department for Wyoming Fishing Regulations
See Pricing and Itineraries for prices and package details. See Book Now page for terms and payment options.